Our journey starts in the beginning of May and takes ±10 months. We are obliged with the current situation to take a flight from Athens to Amman (there is no other connection) and from Khartoum to Nairobi (because of the current conflict in Ethiopia). See the visual below for the entire timeline, which consists of 3 phases.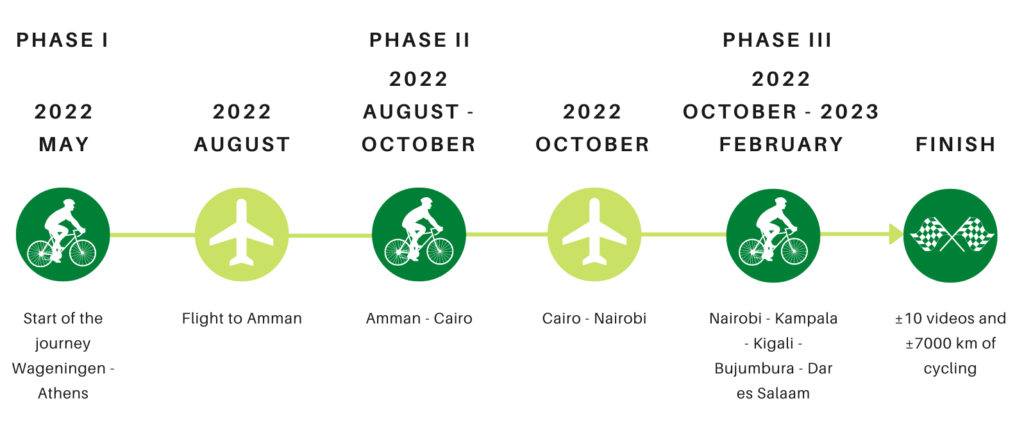 We have the ambitious aim to use our bicycle as our main mode of transportation to each of the farms. We will cycle ±7000 km and we will be visiting farms on the way in the EU and Africa (see map for the route).
We have chosen cycling because of three reasons:
First, it is environmentally friendly. Initially we booked flight tickets, which later we canceled, because it did not feel right to contribute to unnecessary carbon emission.
Second, it is economically sustainable. Cycling is the cheapest and most common form of transportation in the Netherlands, but not in the rest of the world. We would like to encourage and inspire people to use an economic and environmentally friendly sustainable mode of transportation such as cycling.
Third, cycling enables us to document environmental, social, economic changes in the environment which we would not be able to capture with the use of other transportation methods.
We are cycling from Wageningen to Mwanza which is ±7 000 km in distance.
The Map presents all the Regenerative farms globally. The brown icons marks the farms we are visiting.
Phase I (The Netherlands – Germany – Austria – Croatia – Bosnia and Herzegovina – Montenegro – Albania – Greece ) ± 3 000 km.
Flight 1 (Athens – Amman) according to the current connection possibilities it is not possible to avoid taking a flight.
Phase II (Amman – Cairo) ± 1 000 km.
Flight 2 (Cairo – Nairobi) due to tensions in South Sudan and Ethiopia.
Phase III (Nairobi – Kampala – Kigali – Mwanza) ±3 000 km.
We hope you are enjoy reading it! Help us to keep on going by pressing donation button below. Thank you!

Lukas & Aisha